Lebenslauf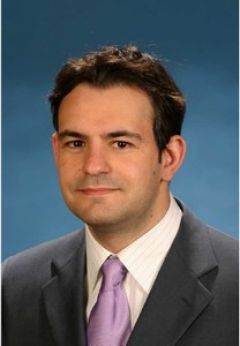 Lebenslauf
Dr. med. Charalampos Dragonas
Geburtsdatum: 27.10.1978
Geburtsort: Athen
Nationalität: Griechische, Deutsche
Beruf: Arzt, Rheumatologe (01/2014), Internist (03/2010), Mitglied der Europäischen Akademie für Altersmedizin (2008)
Schule:
1984 – 1996 Grundschule, Gymnasium, Lyzeum Zakynthos/GR
Studium:
05/1997 – 10/2003 Humanmedizin, Friedrich-Alexander Universität Erlangen-Nürnberg
Dissertation:
04/2004 Titel: Einfluss der Chlamydia Pneumoniae Infektion auf die LDL-Oxidation (Universität Erlangen-Nürnberg) (info)
Beruflicher Werdegang:
12/2003 – 12/2008 Facharztausbildung in der Inneren Medizin 2 (Innere Medizin, Geriatrie) von Klinikum Nürnberg
01/2009 – 12/2009 Facharztausbildung in der Geriatrischen Klinik vom Universitaetsspital Basel, Schweiz
09/2010 – 08/2013 Facharztausbildung in den Rheumatologischen Kliniken von Universitäsklinikum Regensburg und Klinikum Bad Abbach, Deutschland
05/2014 Gründung Rheumatologischer-Internistischer Praxis auf Zakynthos
Stipedien:
01/2006 – 12/2007 Stipedium von der Robert Bosch Stiftung (Stuttgart) zur geriatrischen Forschung (siehe hier)
Facharzt-Titel:
03/2010 Internist (Bayerische Landesärztekammer, München)
01/2014 Rheumatologe (Bayerische Landesärztekammer, München)
Weiterbildung:
2004 – 2008 Abdomen-Ultraschall, inkl. Schilddrüse (CEKIB, Klinikum Nürnberg)
2007 – 2008 Europäische Akademie für Altersmedizin (ΕΑΜΑ), Sion / Schweiz (info)
2010 – 2011 Gelenk-Ultraschall (Klinikum Bad Abbach)
Publikationsliste:
Lehmann P, Ehrenstein B, Hartung W, Dragonas C, Reischl U, Fleck M. PCR analysis is superior to histology for diagnosis of Whipple's disease mimicking seronegative rheumatic disease. Sand J Rheumatol. 2017 Mar;46(2):138-142.
Dragonas C, Ehrenstein B, Fleck M. Tocilizumab treatment in a patient suffering from rheumatoid arthritis and concomitant chronic hepatitis C infection. Rheumatology (Oxford). 2012 Aug;51(8):1520-1.
Watfa G, Dragonas C, Brosche T, Dittrich R, Sieber CC, Alecu C, Benetos A, Nzietchueng R. Study of telomere length and different markers of oxidative stress in patients with Parkinson's disease. J Nutr Health Aging. 2011 Apr;15(4):277-81.
Heppner HJ, Bertsch T, Alber B, Esslinger AS, Dragonas C, Bauer JM, Sieber CC. Procalcitonin: inflammatory biomarker for assessing the severity of community-acquired pneumonia--a clinical observation in geriatric patients. Gerontology. 2010;56(4):385-9.
R. Dittrich, C. Dragonas, D. Kannenkeril, I. Hoffmann, A. Mueller, M. Beckmann, M. Pischetsrieder. A diet rich in Maillard reaction products protects LDL against copper induced oxidation ex vivo, a human intervention trial. Food Research International 2009;42(9):1315-22.
Dragonas C, Bertsch T, Sieber CC, Brosche T. Plasmalogens as a marker of elevated systemic oxidative stress in Parkinson's disease. Clin Chem Lab Med. 2009;47(7):894-7.
Heppner HJ, Bertsch T, Alber B, Esslinger AS, Dragonas C, Bauer JM, Sieber CC. Procalcitonin: Inflammatory Biomarker for Assessing the Severity of Community-Acquired Pneumonia - A Clinical Observation in Geriatric Patients. Gerontology. 2009 Nov 25.
Ruggiero C, Cherubini A, Lauretani F, Bandinelli S, Maggio M, Di Iorio A, Zuliani G, Dragonas C, Senin U, Ferrucci L. Uric acid and dementia in community-dwelling older persons. Dement Geriatr Cogn Disord. 2009;27(4):382-9.
H.J. Heppner, J.T. Wagner, J.M. Bauer, C. Dragonas, A.S. Esslinger, C.C. Sieber. Invasive nosomycosis in the elderly: An observation at an ICU with the main focus on acute geriatric medicine and aspergillosis. EuroJGer Vol. 10 (2008).
Dragonas C, Wagner JT, Heppner HJ, Bertsch T, Muhlberg W, Wicklein S, Pahl A, Diewald C, Bachmakov I, Sieber CC, Fromm MF. The association of ABCB1 polymorphisms and elevated serum digitoxin concentrations in geriatric patients. Eur J Clin Pharmacol. 2008 Apr;64(4):367-72.
Dragonas C, Maltaris T, Binder H, Kat M, Mueller A, Cupisti S, Hoffmann I, Beckmann MW, Dittrich R. Progesterone bioavailability with a progesterone-releasing silicone vaginal ring in IVF candidates. Eur J Med Res. 2007 Jun 27;12(6):264-7.
H. J. Heppner, A. S. Esslinger, C. Dragonas, W. Mühlberg, C. C. Sieber Besonderheiten in der Arzneimitteltherapie beim geriatrischen Patienten. Arzt und Praxis. 2007 Jahrgang 61 / 924:136-142.
Maltaris T, Dragonas C, Hoffmann I, Mueller A, Beckmann MW, Dittrich R. Simple prediction of the survival of follicles in cryopreserved human ovarian tissue. J Reprod Dev. 2006 Aug;52(4):577-82.
Dragonas C, Mueller A, Maltaris T, Kraemer P, Dimmler A, Jaeger W, Beckmann MW, Dittrich R. Role of insulin in the progression of ovarian sex cord stromal tumors in rats. J Cancer Res Clin Oncol. 2005 Nov;131(11):751-7.
Dittrich R, Maltaris T, Dragonas C, Huber C, Beckmann MW, Kiesewetter F. Individual assessment of sperm morphology of single spermatozoa used for intracytoplasmic sperm injection. Andrologia. 2005 Feb;37(1):53-6.
Dittrich R, Dragonas C, Mueller A, Maltaris T, Rupp J, Beckmann MW, Maass M. Endothelial Chlamydia pneumoniae infection promotes oxidation of LDL. Biochem Biophys Res Commun. 2004 Jun 25;319(2):501-5.
.