Systemic Lupus Erythematosus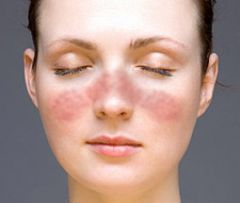 "Butterfly rash" is a typical symptom of SLE
What is Systemic Lupus Erythematosus?
Systemic lupus erythematosus (SLE) is a systemic autoimmune disease (or autoimmune connective tissue disease) in which the body's immune system mistakenly attacks healthy tissue. When the immune system is functioning normally, it makes proteins called antibodies that protect against pathogens such as viruses and bacteria. Lupus is characterized by the presence of antibodies against a person's own proteins; these are most commonly anti-nuclear antibodies, which are found in nearly all cases. These antibodies lead to inflammation. Although the underlying cause of autoimmune diseases is unknown, most believe that lupus results from both genetic and environmental stimuli.
There are many kinds of lupus. The most common type is systemic lupus erythematosus (SLE), which affects many internal organs in the body. SLE most often harms the heart, joints, skin, lungs, blood vessels, liver, kidneys, and nervous system. The course of the disease is unpredictable, with periods of illness (called flares) alternating with remissions. The disease occurs nine times more often in women than in men, especially in women in child-bearing years ages 15 to 35, and is also more common in those of non-European descent.
While there is no cure for SLE, it is treated with immunosuppression. The goal of immunosuppressive therapy is to keep symptoms under control. SLE can be fatal. The leading cause of death is from cardiovascular disease due to accelerated atherosclerosis. Survival for people with SLE in the United States, Canada, and Europe has risen to approximately 95% at five years, 90% at 10 years, and 78% at 20 years, and now approaches that of matched controls without lupus.